Tutorial Videos
Need help to join your class?
Here are some tutorial videos you can take a look at.
Note: Only Grade 1, 2, and 3 will be using Seesaw.
How to in log in to Google
Google Classroom FAQs
How do I sign in to Classroom?
---
School account—Also known as a G Suite for Education account, this account is set up by an accredited school. It looks like you@sunflowerschool.ac.th. If you don't know your G Suite for Education account details, ask your teacher or the school's IT admin.
---
I forgot my password
---
If you're a student in a school that uses G Suite for Education—Ask your teacher to contact the admin to reset your password.
If you're a teacher in a school that uses G Suite for Education—Contact the admin to reset your password. Who is my administrator?
---
How do I change my password?
---
1. Go to classroom.google.com 2. At the top, click Menu.
3. Scroll down and click Settings.
4. Under Account settings, click Manage.
5. Under Sign-in & security, click Signing in to Google.
6. Click Password.
7. Enter your current password and click Next. 8. Enter your new password. We recommend that you create a password with at least 8 characters. Why? 9. Enter your new password again and click Change Password.
---
---
How to in log in to Seesaw
Seesaw FAQs
Email / Google Account Sign In
---
Designed for students who can remember their email address and password. Students type in a Student Code to join the class for the first time. Afterwards, they just need to use their email/password to sign in to Seesaw.
Open the Seesaw Class app.
Tap "I'm a student".
Input the Class Join code from the teacher and tap "Go"
Tap "Sign in with Google" if students are signing in with a google account or enter name, email and password and tap "create account".

Note: For security, there is a new code every 7 days. Never share codes on social media.
---
How do I combine student journals after I change sign in mode?
---
If you switch from student code sign in to email / Google sign in, you may want to combine student journals so there are not duplicate students (two separate portfolios for each student). After students join your class, you can combine their existing journal with their new account. After combining student journals, the work and families from the existing student will be associated with the new student.
First, make sure that your class is in email/google sign in mode (you can change this back to QR code after you have merged students).
Tap the wrench icon in the top right corner.
Tap 'Manage Students'.
Select a student.
Tap 'Combine with other student journal' button.
Follow the prompts to combine two journals.
You can only combine two students within the same class. Students without an email address can only be combined with students with an email address on their account. Combining student journals cannot be undone, so please do this carefully.
---
How do students add posts to Seesaw?
---
Students and teachers can post directly to the student journal. Student posts go to the teacher for approval. 1. Tap the green add button, then tap 'Post to student journal'.
2. Choose the type of post you'd like to add.
3. Create your post. Edit your post to add voice recordings, drawings, text labels, or captions.
4. Tap the green checkmark to complete your post!
---
How do students respond to activities.
---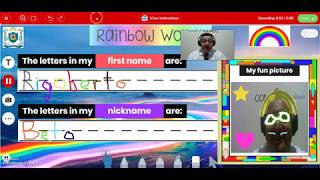 ---
---